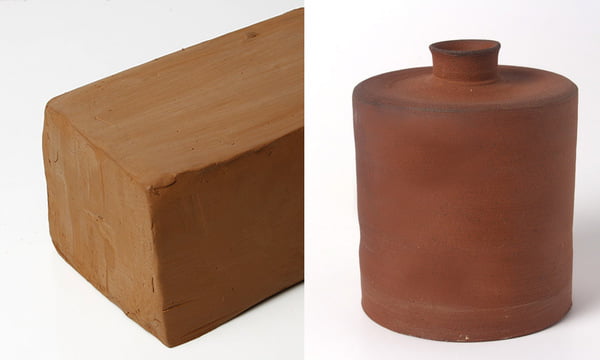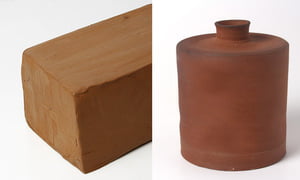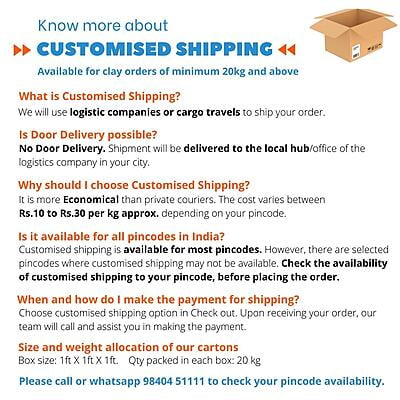 Sara Clay Mid Fire Stoneware Rustic Red - J
Non-returnable
All prices are inclusive of taxes. Shipping Costs Extra.
SPECIAL OFFER: FREE SHIPPING FOR 1 TON & ABOVE
Your order will be

delivered free of cost

to the local office/hub of the logisitics company in your city/district.
Offer valid for selected pincodes only. Not applicable for Jammu & Kashmir. Please call
98404 51111
and confirm your pincode availability before placing the order.
Mid Fire Stoneware Clay - Rustic Red

Available in 10kg, 20kg, 40kg,100kg and 1 Ton.

Great for hand building, sculpting, wheel throwing, ceramics and jewellery

Non-toxic and natural clay
Maximum firing range is

1240 °C

degrees centigrade and glaze firing temperature is Cone 6
CUSTOMISED SHIIPING (Minimum qty of total cart 20 kgs):


If you would like to opt for customised shipping from vendors like Logistics or Travels, you can opt for

Customised Shipping

Option at Checkout.

Refer second image for FAQ.

Please call us at

9840451111

to confirm the availability to your pincode before placing your order.

(This option is not available for all pincodes)



All prices are inclusive of taxes. Shipping Costs Extra.
Checkout, Shipping & Dispatch
No Cash on Delivery (COD)

Once payment is complete, the product will be dispatched.

Time taken for dispatch: 5 to 7 days.



Tableware producers must test all finished ware to establish dinnerware status, due to possible variations in firing temperature and contamination.